Our team is comprised of experienced, well-trained, and passionate professionals, who pride ourselves on the services we deliver to our customers within Melbourne and its surrounding areas.
Our removal services cover both the residential and commercial sectors, ensuring a cleaner and safer environment. Whether it be a domestic property, commercial business, or construction site, our waste removal services are tailored to suit each customers needs. Go Easy Rubbish Removal is a quick, easy and affordable solution.
We recycle, re-purpose or donate – that's what we do to minimize the impact of your waste on the environment. We are a removal company that is 'Green' at heart.
Therefore, when you book with us, you can remain assured that we endeavour to put the environment at the forefront of our efforts. Go Easy Rubbish Removal work towards creating a sustainable and clean environment for tomorrow.
Fast, effortless and affordable rubbish removal. Call now and get a 10% discount!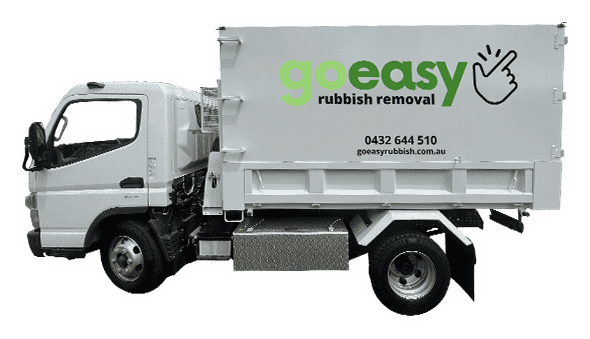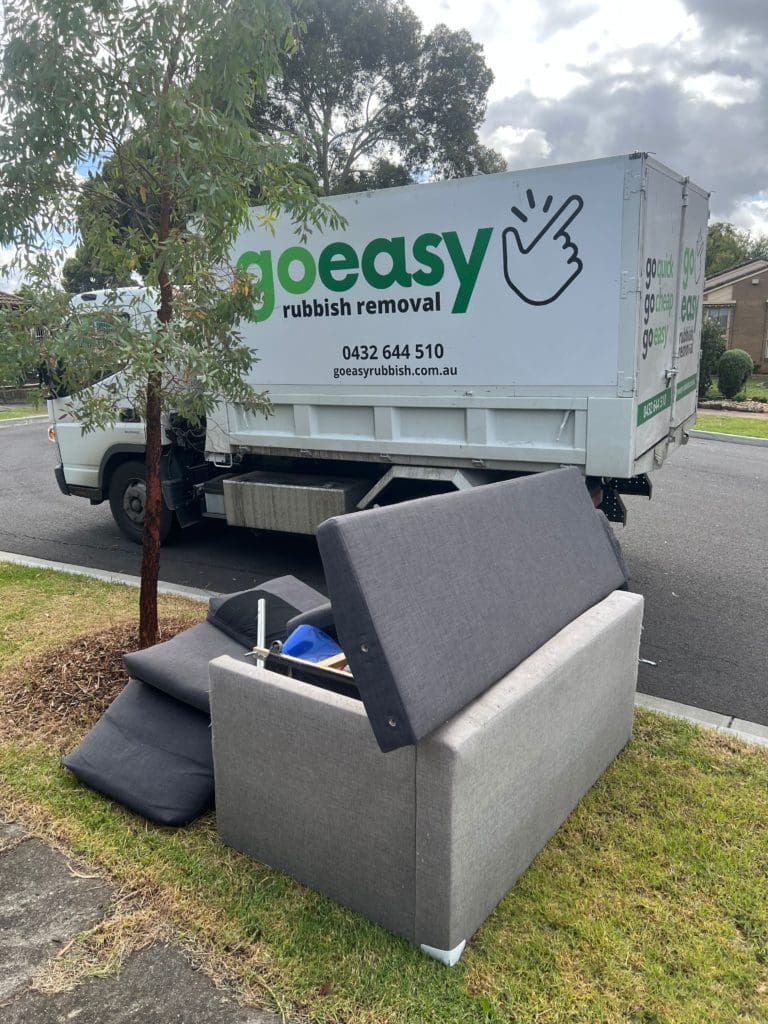 Our Removal Process in 4 Easy Steps
1. Simply schedule your rubbish removal service
By filling out our online enquiry form or by calling 0432 644 510. Our friendly & experienced team will get in touch with you to discuss any queries.
2. Provide a fulll assessment & an estimation for the service
When you contact us, we'll ask you a range of questions, detailing the rubbish services you require. Based on the information provided, we are then able to give an estimate. This is however dependent on a full assessment of the rubbish and waste on site, where we can then determine in full, the exact type of rubbish and volume that needs attention.
3. Booking and Confirmation
Once your removal has been booked and prior to arrival on site, we'll give you a quick call to confirm and assess the price and services required before commencing works.
Once you say the word, we'll haul your rubbish into our trucks and finish by tidying up the area. You don't even have to be on site — provided there is clear access to the site, our driver can enter without your presence, as long as it is safe and we are permitted to do so. Plus, we will recycle and donate whatever we can, whenever possible.
What Go Easy Rubbish Stands For
We have a crystal-clear strategy in place as we strive towards making a sustainable future possible.
To deliver sustainable waste management solutions leveraging our expertise to deliver on the promises to our customers consistently. We aim towards generating superior value for our customers and our planet.
To help transform businesses and households by reducing the amount of waste by encouraging individual and corporate responsibility. We will make a sustainable future possible.
We will always tread the right path, keeping our highest standards intact. We will walk the talk and feel proud of contributing towards making a sustainable future. In our team, everyone will be allowed to play by their strengths.
Our Happy Removal Clients
Feedback from past clients of Go Easy Rubbish Removal
Fantastic customer service. Came around on the same day to remove all of my unwanted household items after a big spring clean. Visited to provide a quote only, so I didn't feel pressure to commit to anything. Would definitely use again for the next time around.
I loved the fact that it was such a quick and easy transaction. Made a booking and within a few hours I received a call advising that they were en route to my place. Everything was loaded and carted away shortly after. It was fantastic, so hassle free and great value for money.
I was moving house and had a bunch of things I didn't want to take with me. I left everything in my driveway while I was at work. Received great communication throughout.
First call received was prior to works commencing, where we agreed on a fair price. I then received a follow up call notifying me that works were completed and that my invoice was sent via email, plus a texted photo of my clutter free driveway. So simple and professional, have recommended to family and friends.
Go Easy's Removal Service Area Map
SAY GOODBYE TO YOUR RUBBISH & WASTE PROBLEMS! ONE CALL & WE'LL HANDLE IT ALL!
✓ Affordable Prices   ✓ Same Day Removal  ✓ Wide-Ranging Rubbish Services